The excitement around Newcastle United's lucrative takeover has died down, with the world's richest football club now facing a relegation scrap.
Newcastle have endured the worst start to a league season in their history after Saturday's 1-1 draw at Brighton and Hove Albion extended their winless run to 11 matches.
Second from bottom and five points from safety, talk of January moves for Philippe Coutinho, Ousmane Dembele or Marc-Andre ter Stegen – Barcelona's expensively assembled squad, reports say, is ripe for picking – must wait.
Expectations have also been tempered in the coaching arena. Antonio Conte, Erik ten Hag and Unai Emery were all mooted targets; Emery even held talks with Newcastle's owners. Instead, Eddie Howe is the man in charge.
Howe, whose arrival at St James' Park on a contract until the end of 2023-24 was confirmed on Monday, is a highly respected coach but was last employed by Bournemouth in 2020, at the wheel as they were relegated from the Premier League.
Crucially, though, Howe also knows a thing or two about beating the drop. He kept Bournemouth in the top flight for four seasons before that fateful final campaign and had rescued the club from demotion out of the Football League more than 10 years earlier.
The 43-year-old will expect financial help in the transfer window, but Newcastle first have several areas of concern to address if they are to reach January still in touch.
Fix the defence
The biggest worry around both Newcastle and Howe relates to their defensive records.
Only Norwich City (26) have conceded more goals than Newcastle (24) this season, while the Magpies' opponents have had a league-high 21.6 expected goals. That back line clearly needs attention.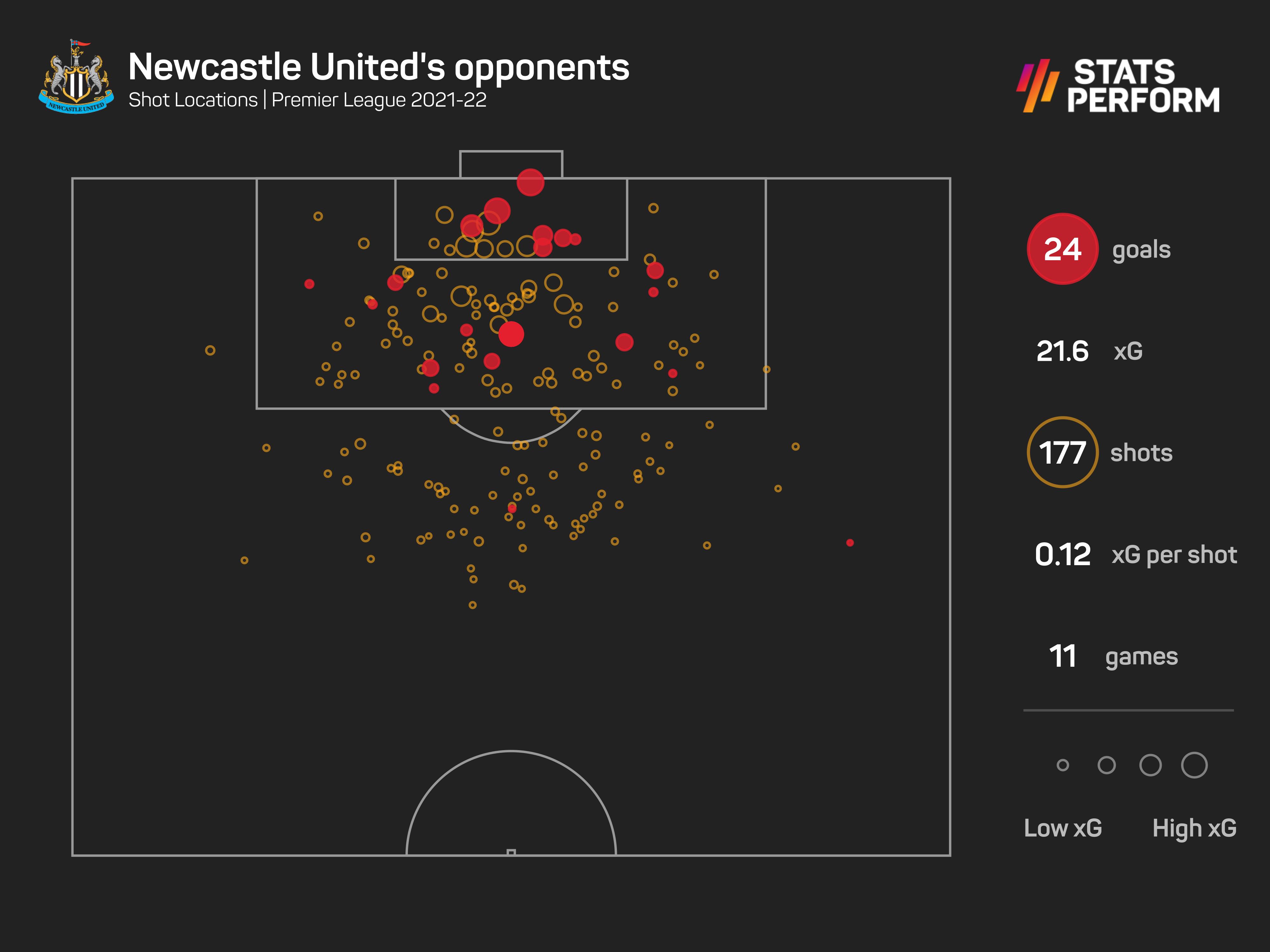 But Howe's Bournemouth conceded at least 61 goals in each of their five seasons in the top flight, making him far from an obvious candidate to address Newcastle's biggest need.
There is a lack of quality options within that defence, but Graeme Jones, the interim coach who has taken a role on Howe's staff, has attempted to stem the tide during his short reign as the main man.
At odds with the more aggressive pressing approach Howe is likely to adopt, Jones' side sat deep. Across games against Crystal Palace, Chelsea and Brighton, Newcastle had the highest PPDA (an incredibly passive 22.6 opposition passes per defensive action) and the second-deepest average starting position (just 37.5 metres from their own goal) in the league. The Magpies still conceded five times and earned only two points.
Regardless of what changes Howe makes at the back – and there have to be changes – those in front also require greater co-ordination.
In Sean Longstaff (52.9), Joe Willock (49.9) and Miguel Almiron (49.7), Newcastle have players who rank first, fifth and sixth among central midfielders for pressures per 90 minutes this season. Their haphazard pressing, lacking any clear cohesion, has succeeded only in leaving gaps behind them, however.
Neither Longstaff nor Willock featured at Brighton, while Almiron played on the right flank and was taken off after 74 minutes.
Keep the ball
The pressure on Newcastle's defence would be relieved by an ability to keep the ball for any extended period. Their average possession of 37.3 per cent is comfortably the lowest in the division this season.
But that is nothing new; Newcastle have ranked in the bottom three in this regard in each season since they were promoted in 2017.
"We hopefully have nudged it along a little bit this week," Jones said before the Brighton game, where Newcastle had just 34.1 per cent of the ball. "You can't go from how we played against Chelsea and Crystal Palace to being Barcelona overnight. It's impossible, so it needs to be small steps."
Howe, Newcastle will hope, should be able to help with those steps. Since Bournemouth were first promoted, only Leeds United last season (57.8 per cent) have averaged more possession in their first year in the Premier League than the Cherries in 2015-16 (51.1 per cent).
Concerningly, though, having held steady into a second season, Bournemouth's possession figures then dropped with each campaign until they were relegated with 43.4 per cent of the ball.
Howe will have to enact serious change and this time maintain those standards over a longer period.
Feed the forwards
Having more possession should fit hand in hand with getting Newcastle's dangerous attacking players on the ball more often. Callum Wilson and Allan Saint-Maximin have too often been isolated.
The certainty of a full-time appointment should at least allow Newcastle to settle on a system that suits both players after drastically shifting their approach following each miserable run of Steve Bruce's tenure. Tactical flexibility, as Howe should show, is one thing, having no proven plan to fall back on is another.
Even with Newcastle struggling, Wilson has managed to score 16 goals since the start of last season. Among the 14 players to net 15 or more in that time, only Mohamed Salah (127), Harry Kane (163) and Dominic Calvert-Lewin (164) have averaged fewer minutes per goal than the Magpies' number nine (167).
"A fit Callum Wilson is as good as anybody in the Premier League," Jones says.
Of course, Howe has experience with Wilson and with Ryan Fraser, both of whom he brought to Bournemouth.
Under Howe in 2018-19, Wilson and Fraser combined for 12 Premier League goals – at that time, the second-most of any duo in the competition's history in a single season, behind Alan Shearer and Chris Sutton (13 in 1995-96).
12 - Ryan Fraser and Callum Wilson combined for 12 Premier League goals in 2018-19 - only Alan Shearer and Chris Sutton (13 in 1994-95) have combined for more in a single campaign in the competition. Toons. pic.twitter.com/HnaNA0eWKC

— OptaJoe (@OptaJoe) September 7, 2020
If Howe can help the pair reprise that form and build some sort of platform behind them, Newcastle should yet have enough to survive.