Diogo Dalot believes the underlying spirit shown in Manchester United's dramatic 1-0 win over Omonia Nicosia promises to take them far as a team.
United looked destined to be frustrated by their visitors in Thursday's Europa League clash at Old Trafford, but the hosts eventually scored with their 34th shot.
Scott McTominay dealt the decisive blow after Omonia goalkeeper Francis Uzoho had performed admirably to keep the game goalless.
With his goal, McTominay became the first substitute to score a winning goal in the 90th minute or later in a European match for United since Ole Gunnar Solskjaer in the 1999 Champions League final.
Like Solskjaer on that occasion, McTominay came off the bench to net his winner, and Dalot felt that reflected well on United's depth and the strength of character that runs through the squad.
"I think that this is what will take us to places," he said.
"Be a squad as a full, not just 11 or 12, 13 players, be a complete squad and I think everyone feels that they can get a chance if they work hard, if they fight for it.
"I think this competition is healthy for everyone – especially us as players. It always improves us and I think, as a squad, it's the best that you can have."
He added: "We had to be patient. We created – I don't know how many chances we created – but I think we could be a little bit more clinical, but I think we deserved it at the end, the goal.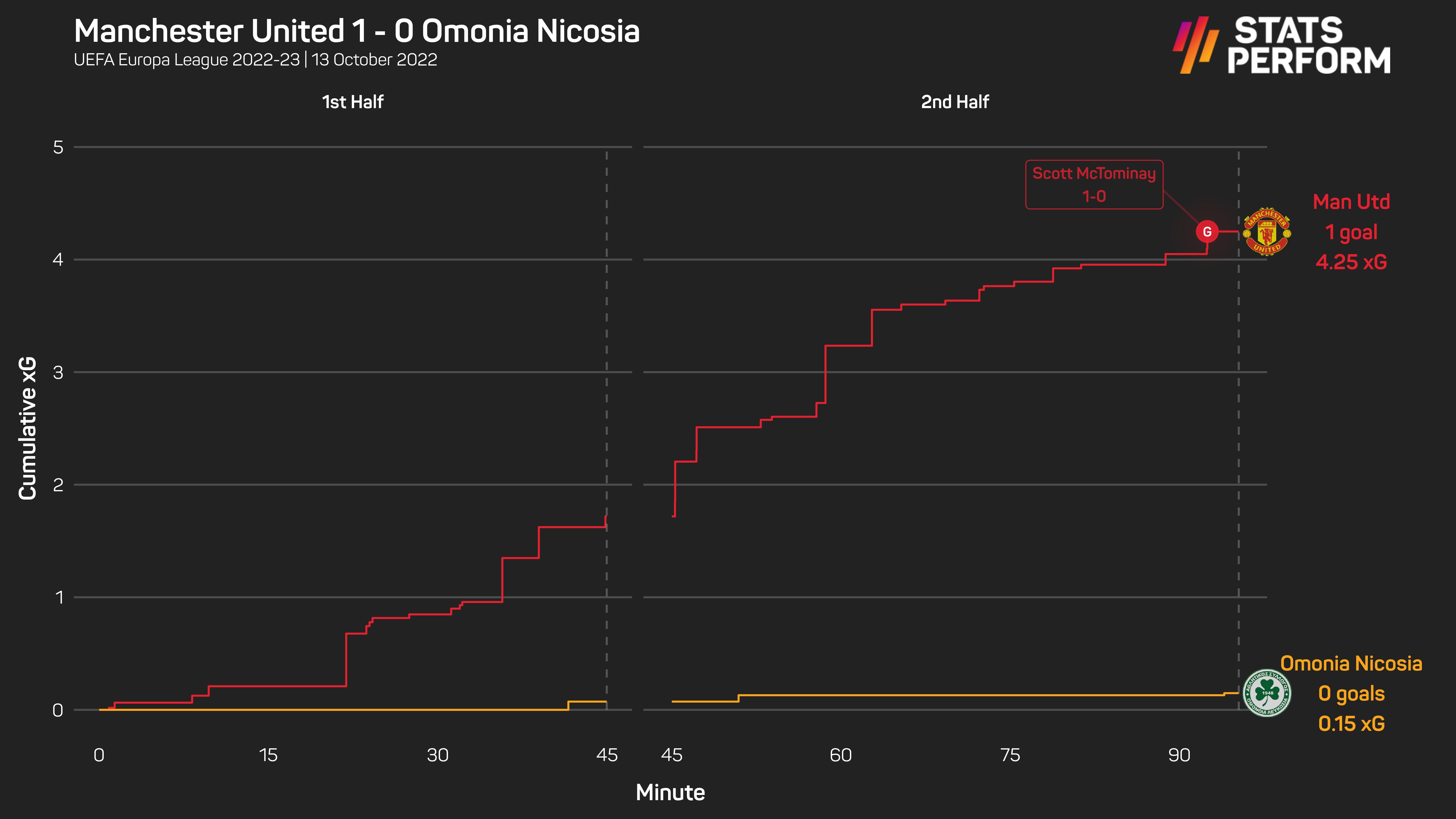 "When that happens I think it has to come out the patience to not be frustrated because you see the time going and going and you don't score a goal, but I think we did well.
"We kept patience, especially around their box. Like I said, we could be a little bit more clinical but, at the end, I think we deserved the goal and the three points."
Dalot's analysis of United not being clinical enough was highlighted by the fact their one goal came from 4.3 expected goals (xG).
That was only the second time since 2010 that United recorded more than 4.0 xG (excluding penalties) in a single match, and yet they still only scraped by.
Nevertheless, it was also an eighth win in 10 matches across all competitions, with those two blemishes coming against Manchester City and Real Sociedad.
That demolition by City aside, United do appear to be making progress under Erik ten Hag, though Dalot accepts they are not where they want to be yet.
"I think we still have a lot of time and space to improve," he said. "But the games are coming fast so we have to be prepared each game for different kinds of things that the manager can ask for us.
"But overall, I think we are reacting well to what he has been asking – especially after the pre-season, where we had a lot of information coming to us."
United are next in action on Sunday when they face Newcastle United at Old Trafford.