Lukas Klostermann admits it will hurt to see Julian Nagelsmann and Dayot Upamecano leave RB Leipzig for Bayern Munich – but he hopes they can depart after one last "beautiful moment".
Leipzig look set to finish second in the Bundesliga, given they lead Wolfsburg by four points with two rounds to go, and trophy glory could come on Thursday when they tackle Borussia Dortmund in the DFB-Pokal final.
A dress rehearsal in the league on Saturday saw Dortmund snatch a 3-2 victory that boosts their hopes of playing in next season's Champions League, but the cup final showdown in Berlin is a tough game to pick.
Coach Nagelsmann and star centre-back Upamecano are both heading for Bayern at the end of the season, so the game represents their final chance of snatching major silverware with Leipzig, a club that was established only 12 years ago and has come a long way since.
Right-back Klostermann, who will hope to be involved for Germany at Euro 2020, is preparing for reluctant farewells to Nagelsmann and Upamecano.
"Of course I am not that happy about it, that's for sure," Klostermann told Stats Perform News.
"But I think the coach already told from the beginning that on a long-term perspective it would be his greatest wish to become coach of FC Bayern. But still, I would have wished that it happened a bit later than now. But if it's his big goal and dream, then I cannot be angry or annoyed because of him leaving.
"I think we showed in the past already a couple of times that we can compensate losses, just like how it was with Timo Werner. Some people said that we will fall into a deep hole but I think that was not the case."
Werner was a big-money acquisition by Chelsea last June, but Leipzig have pressed on without the Germany forward.
They will doubtless be strong next season too, but to keep losing major talents, whether from the playing or coaching ranks, cannot be conducive to building a team to challenge for the Bundesliga.
"For the club it would be good on a middle-term or long-term perspective to develop more and more, so the players don't need another club in Europe to play for the elite," Klostermann said. "We should achieve that ourselves, to be part of the elite. I know it's a long way to go, but I think this should be the long-term goal."
The 24-year-old Klostermann scored in the weekend loss to Dortmund, grabbing his first goal of the season, but said Leipzig "only played really well in the second half" of that game. It was tight in terms of the xG (expected goals) count, with Dortmund leading that by 1.7 to 1.5, enjoying the better chances despite Leipzig ending the game 8-4 ahead in terms of shots on target.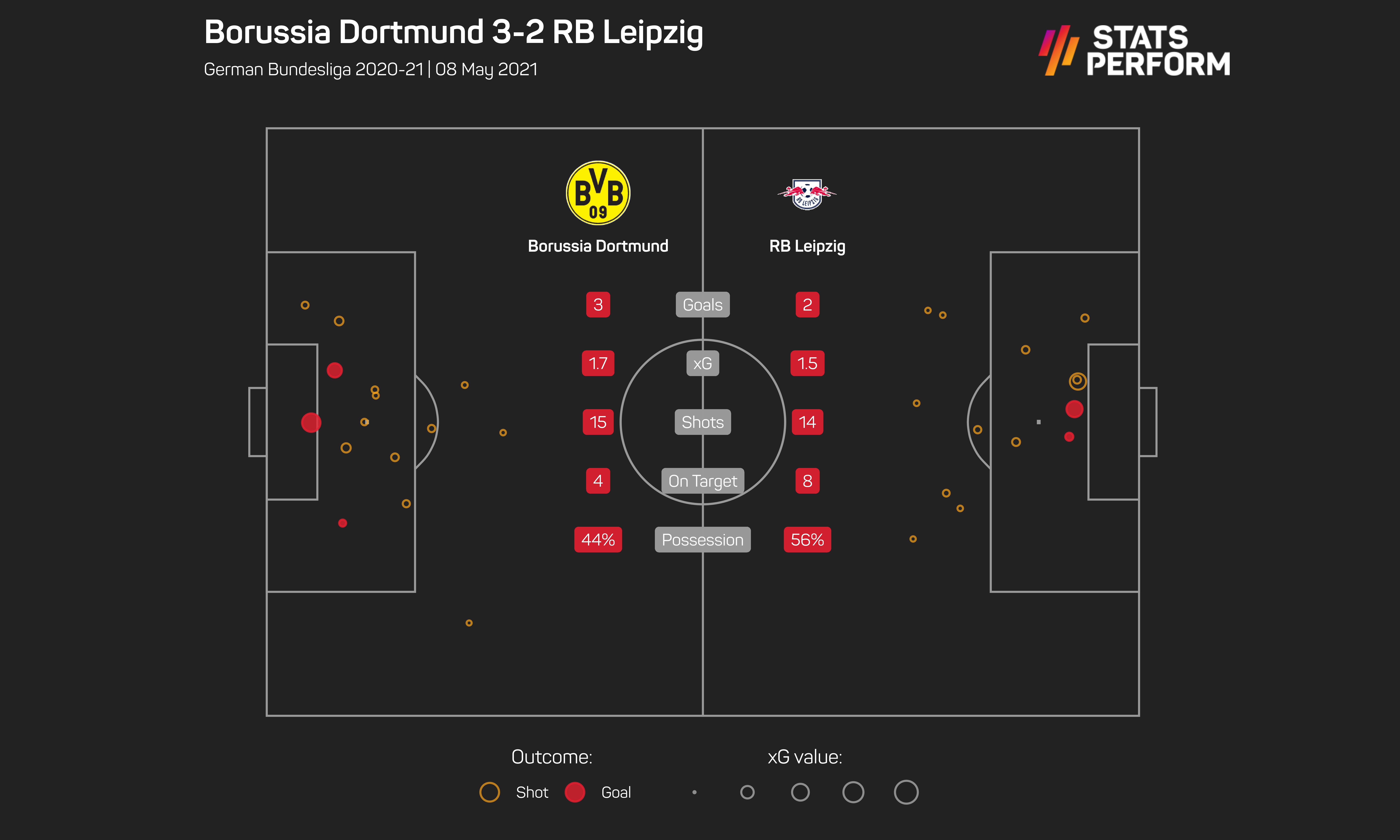 "I think that both teams will take the first game as a basis to analyse in order to change a couple of things in the final," he said. "That's why I think that the first game has an influence on the final. It's not that huge, as the game starts at 0-0 again, but the teams will analyse it and change certain things for the final."
Klostermann said it would "be incredibly important and great to finally win a title", adding: "For all of us it would be an extremely beautiful moment.
"Maybe even a bit more special for players and employees that have been part of the club for a longer time. Five, six or seven years ago nobody believed that we could achieve that. Therefore, it's even nicer to have this chance to win a title. And for that we better give everything on Thursday."
It remains to be seen whether Erling Haaland is fit to lead the Dortmund attack, after missing the weekend game with a muscle issue.
In the Bundesliga alone, Haaland has scored 25 goals in 26 games this season, with a shot conversion rate of 28.1 per cent – among those to have netted more than five this term, only Max Kruse (37 per cent) and Robert Lewandowski (32.5 per cent) have put away a greater proportion of their chances than the 20-year-old.
Should the Norwegian feature, Klostermann has no doubt about his threat, rating him in the top bracket of strikers.
"When you see how he plays right now, then for sure," Klostermann said.
"I think his numbers are showing that. If he plays, it will not be easier for us. But I am still very convinced that we can play better than we did last Saturday. Even if he plays, I give us good chances to win this final."