There was a surprise guest at the wedding of Real Betis star Joaquin in July 2005 – surprise because this particular appearance hinged on the outcome of a football match five weeks earlier.
As Joaquin and his new wife stood at the front of the church in his hometown of Puerto de Santa Maria, Cadiz, something else couldn't help but hog attention.
The Copa del Rey trophy, draped in green and white ribbons stood tall – literally, because it's huge – and proud.
That's right, the Copa del Rey was an especially notable guest at Joaquin's wedding, as the winger – then 23 years old – had only recently helped Betis to just their second success in the competition and first since 1977.
Joaquin has always been regarded as something of a practical joker, with that not-so-subtle wedding decoration very much from his wheelhouse.
Fast-forward 17 years and Joaquin is readying himself for another tilt at the crown with his beloved Betis, who themselves haven't reached the final since that momentous 2-1 extra-time win over Osasuna at the Vicente Calderon.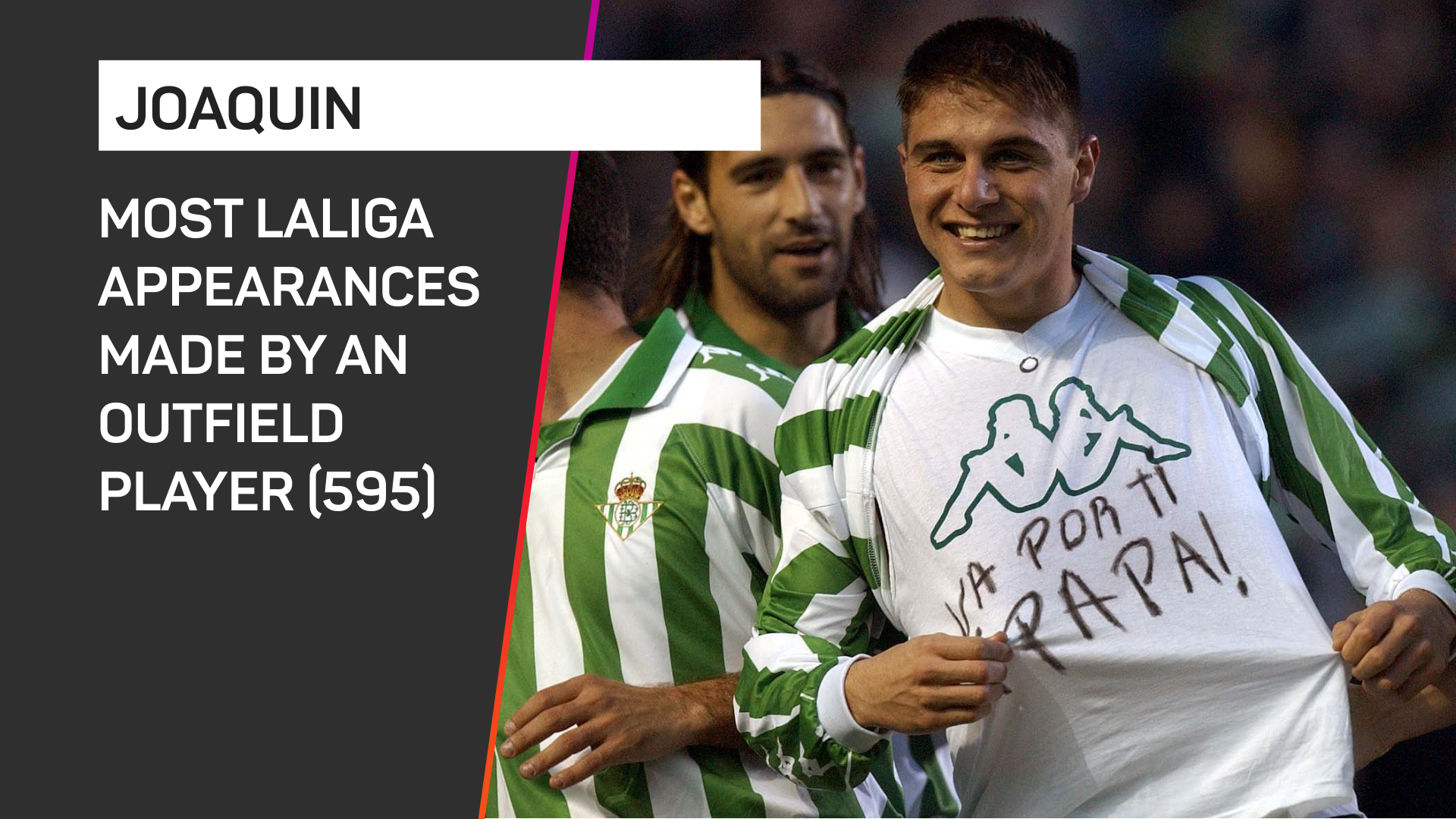 Fittingly, Betis' opponents on Saturday will be the other club most people would associate with Joaquin: Valencia, with whom he won the only other trophy of his career in 2008 – also the Copa – during a five-year spell.
That triumph spawned another curious – but no less Joaquin – photo of the winger with the trophy, as he was snapped stark naked squatting next to the cup in Valencia's dressing room.
Hopefully social media won't see a repeat of that one on Saturday…
Joaquin didn't feature for Valencia in that final, however, and therefore his 2005 success will gratefully remain the focus for most.
While Joaquin is by no means the Betis regular he was 17 years ago when he was an exciting fleet-footed winger, this occasion will still be all about him in the build-up, with there also a degree of aptness around the fact Saturday's game is taking place in Seville, at La Cartuja.
This campaign is expected to be Joaquin's last as a player. Now 40, his contract expires at the end of the season and in November he hinted retirement was likely in 2022. Betis coach Manuel Pellegrini quickly looked to sweep that under the rug, adamant such decisions will wait until 2021-22 is finished, and there's been very little public discussion of the subject from he or Joaquin since.
It's easy to understand why many aren't predicting another year of Joaquin in LaLiga, though. Even if you ignore the fairly important point of his age, his time on the pitch has reduced significantly this term.
In LaLiga he has made only two starts this season and in total featured for just 395 minutes. Of course, he's been used across multiple competitions in 2021-22 and was named in the starting XI eight times in the Europa League.
But while his 31 appearances is actually one more than in 2020-21, his minutes-per-game average of 36 (1,117 total) is 12.4 minutes fewer than last term, highlighting how he's become even more of a peripheral figure.
But that's not to say his influence has waned. Pellegrini stood aside before the first leg of their Copa semi-final defeat of Rayo Vallecano to let Joaquin deliver a speech.
He said: "Look each other in the eyes. We are here because of ourselves. I don't know if I should talk to you as a team-mate, friend or captain, but I will do it as a Betico, because I know what many of them must be feeling here today.
"They are going to be there until the death. The Beticos, and this club, have suffered for a long time. Sacrifice and effort lead to glory. That's the reward.


Joaquín's pep talk before the #CopaDelRey semi-final.
Oh captain, my captain.#BetisAlé pic.twitter.com/Ea7cRt8WIc

— Real Betis Balompié (@RealBetis_en) March 7, 2022
"I had an uncle who used to say, and he taught me this, that there's nothing more beautiful than making other people happy – today we have that chance. We're going to go out there and show we want to be in that final."
Betis fell behind early on in that game in Vallecas but went on to win the game 2-1. They then looked to be heading for extra time when Bebe spectacularly put Rayo ahead with 80 minutes played of the second leg in Seville, but a moment of inspiration from Joaquin right at the end opened the Rayo defence up.
He brought down a cross-field pass, glided away from Bebe and slipped a perfectly weighted pass in behind the defence for Sergio Canales, whose prodded pass was deflected towards goal and tapped in by Borja Iglesias.
The entire Betis bench and staff mobbed Joaquin at full-time, fully aware of what their achievement meant to him – but it was also a show of appreciation, with the veteran's cameo showing he remains a very useful option.
On a per-90-minute basis across all competitions this season, Joaquin tops Betis' charts for assists (0.32), expected assists (0.29) and chances created (2.9), while his 4.3 dribbles attempted is bettered by only three players.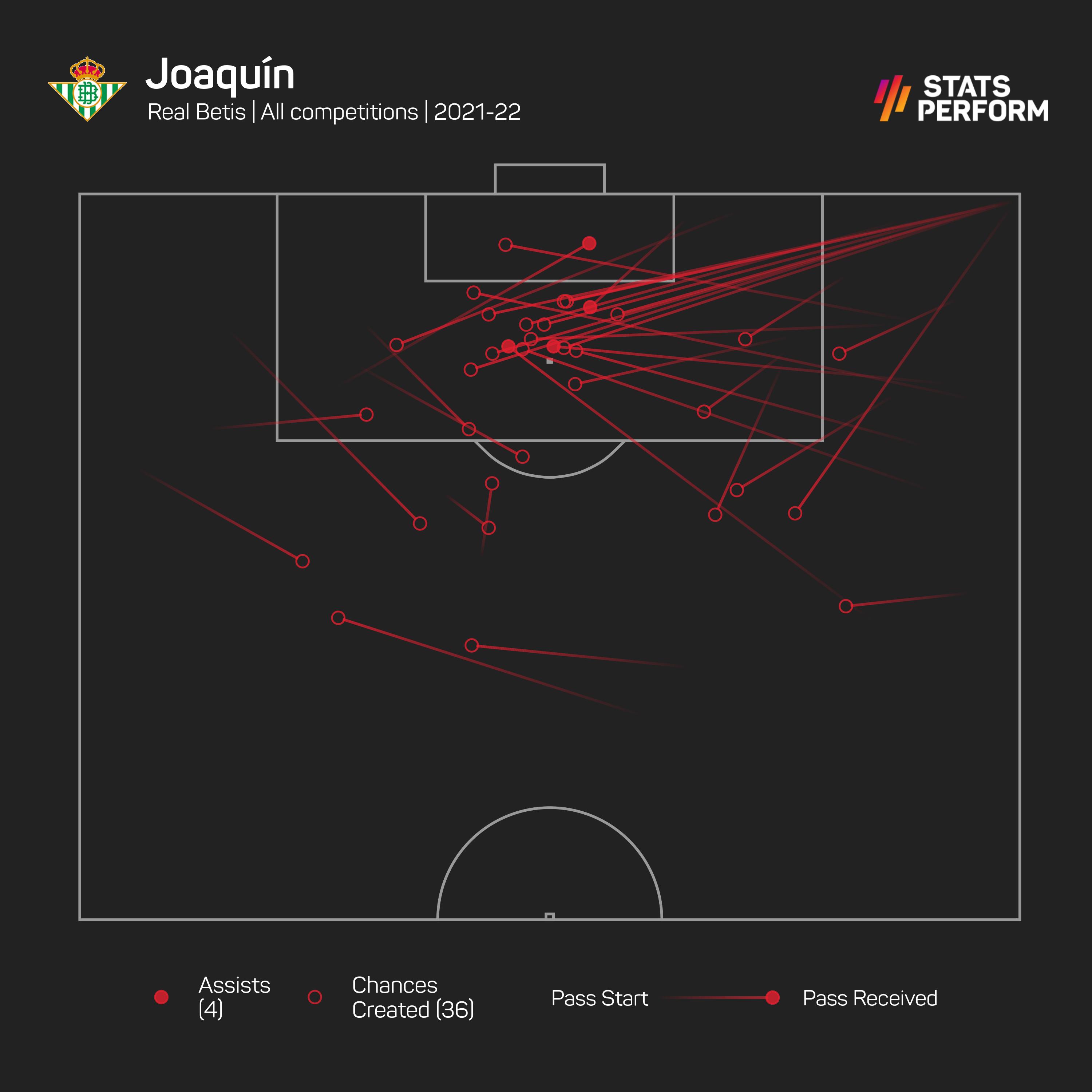 Of course, his sample size is much smaller than the likes of Nabil Fekir and Canales – the point isn't that he's better than them, simply that he's packing a lot of quality into his relatively brief appearances.
Don't expect to see his name in Betis' line-up on Saturday, but do not be surprised if he comes on and makes a telling impact – given the legendary status he holds not only at Betis but also in LaLiga, there'll be many willing him to enjoy a successful end to a fine career.
Let's not forget, his 595 LaLiga appearances is a record for an outfield player, while only one man in Spanish top-flight history has appeared in more seasons (Miguel Soler, 20) than his 19.
Assuming he does in fact play some part on Saturday, it will be his 106th Copa del Rey appearance, extending another record among non-goalkeepers.
A 17th wedding anniversary might not be a big milestone for most, but you can count on Joaquin bringing the Copa along for the celebrations if Betis succeed this weekend.