When Joao Felix signed for Atletico Madrid in 2019, it's fair to say there were plenty who doubted it would be a happy marriage.
Atletico shelled out €126million on the Portuguese talent who had taken the Primeira Liga by storm in his first season, scoring 15 times despite not even being in the Benfica first team when the campaign had begun.
But how was this technical virtuoso going to fit into an Atletico side characterised by its work rate? How would he adapt to the demanding principles implemented by Diego Simeone?
Maverick talents known more for their technical attributes than anything else had often been seen as Simeone's blind spot, hence some trepidation about whether he was the right man to nurture Joao Felix.
The Portugal international's Atletico career has been a slow-burner, but once again there are signs he is beginning to find himself.
Stuck in limbo
Joao Felix had to miss the start of this season through injury, which was obviously not ideal, particularly given how 2020-21 ultimately turned out for him after a promising start.
For a period last season, there were real signs that he was finding his feet. While he was not necessarily roaming as some might have envisaged, his role in the first half of 2020-21 – being more of a withdrawn forward towards the left – saw him become one of LaLiga's standout players.
One theory was that Suarez's signing helped Joao Felix significantly. After all, the Uruguayan enjoyed a near-telepathic on-pitch relationship with Lionel Messi and has always boasted exceptional off-the-ball intelligence. He can make great players look even better.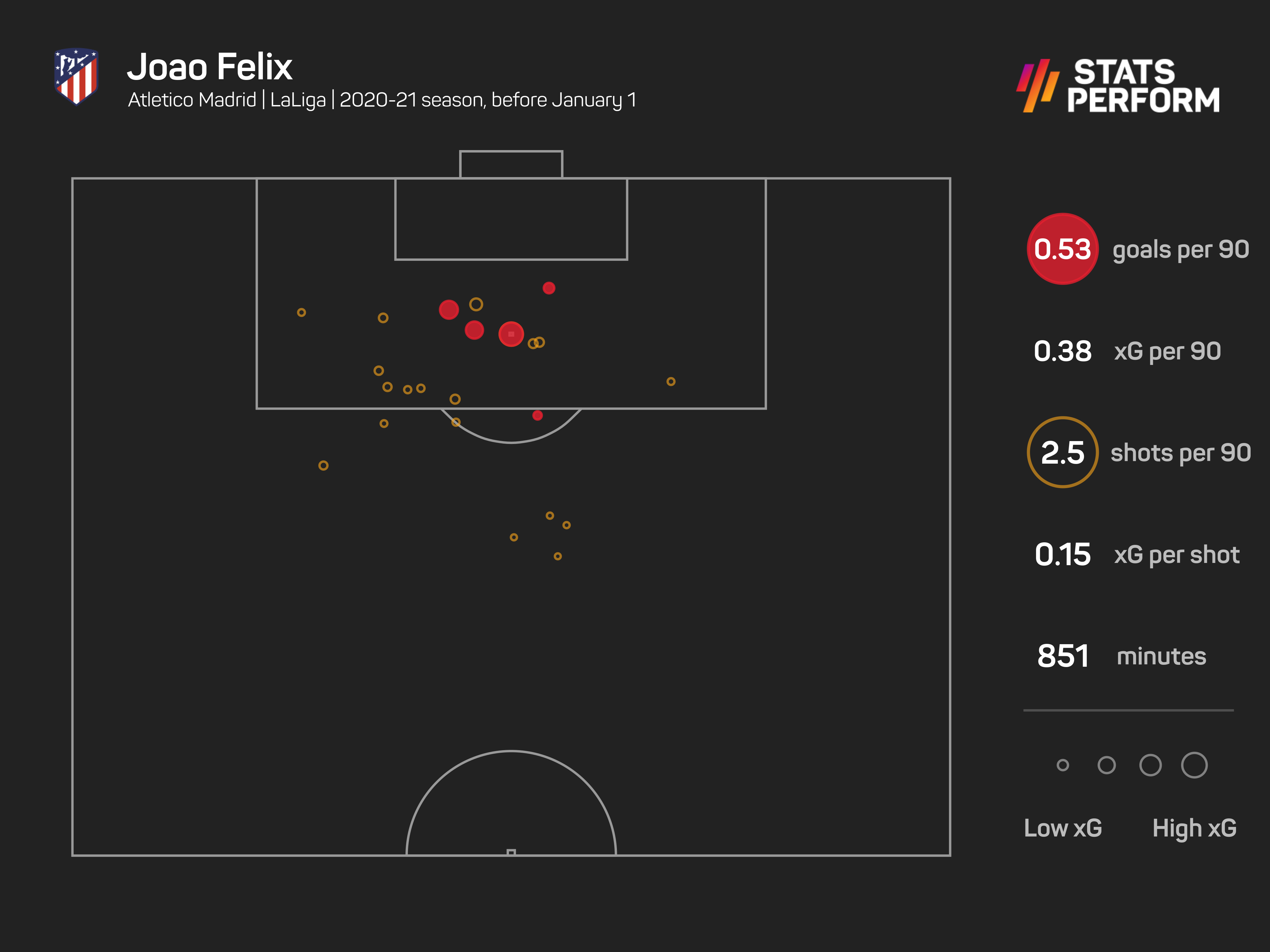 For example, prior to Atletico's 1-0 win over Barca at the Wanda Metropolitano on November 21 last year, Joao Felix had already created the same amount of chances for Suarez (four) as he had for anyone else in all of 2019-20.
But he didn't manage to maintain his status as a standout player for the full season. Bouts of illness, injuries and a suspension all hampered him after the turn of the year as he made just five of his 14 league starts after January 1. In fact, his final total of starts was seven fewer than in 2019-20.
A potential explanation for Joao Felix's disappointing form overall for Atletico was the lack of creativity in central areas behind him. While some might suggest Marcos Llorente's 11 assists in 2020-21 disproves that idea, the former Real Madrid man over-performed his expected assists (xA) by 5.6 – a figure unmatched across LaLiga, suggesting such productivity was not sustainable – while he also did a lot of his best work towards the right.
There had undoubtedly been a major difference between how Joao Felix was used during his first two seasons at Atletico compared to his time with Benfica, where he was seen as more of a genuine striker.
He averaged 2.5 shots per game in 2018-19 with Benfica, and although there wasn't a massive drop-off in his first season at the Wanda Metropolitano (2.4), his expected goals per shot slumped from 0.15 to 0.12. While that may not sound like a lot, it shows a clear indication that the quality of his chances decreased and therefore suggests his similar shot frequency was a result of poor decision-making.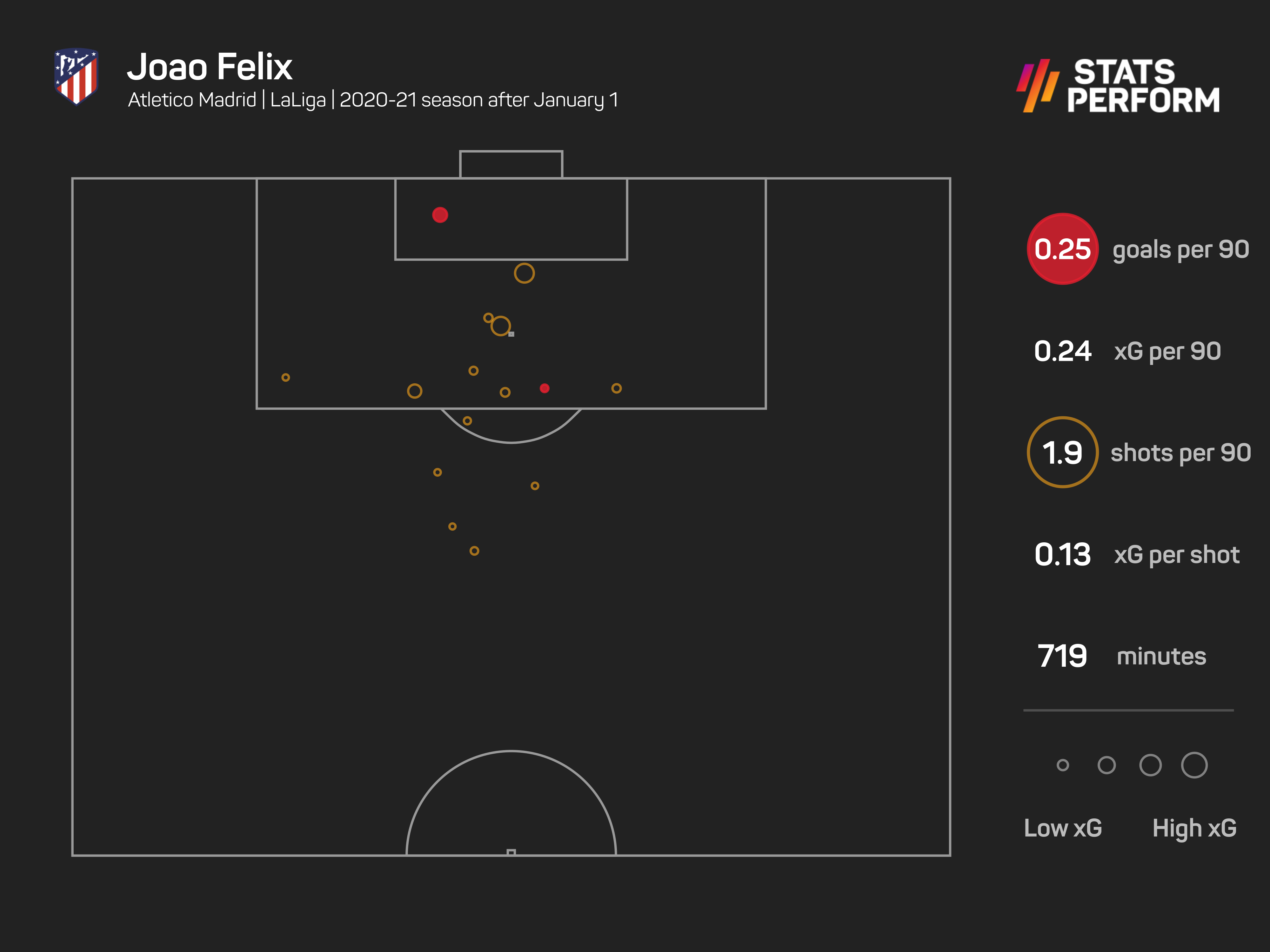 His xG per shot improved back up to 0.14 last term, though he was averaging just 1.26 shots each game, half as frequent as at Benfica.
The fact his average number of touches in the box fell from 4.9 per appearance in 2018-19 to 2.7 the following season and then 2.0 last term further highlighted the different role he was adapting to and went some way to explaining why he was having fewer shots.
Certain transfer window additions – especially Antoine Griezmann and Matheus Cunha – had some fans concerned for Joao Felix, given they were likely to be in direct competition with him for places.
Some felt his future was in a more deep-lying role as part of the central midfield trio, but recently he has excelled in a similar playmaking function but further up the pitch. Suddenly it has him looking like the Joao Felix we all knew was in there somewhere.
Rising to the challenge
Following an uncharacteristic recruitment drive for technical players in the most recent transfer window, a key buzzword around Atletico was 'balance'. Preserving balance in the team was going to be a major focus for Simeone as he looked to truly maximise what is arguably the most talented squad he's had as a coach.
At the moment, it appears to be working well, and Joao Felix seems to be nicely suited to the set-up that's being deployed.
Simeone is favouring the use of a front three that is spearheaded by Suarez, with Joao Felix to the left and Griezmann towards the right.
The roles of Joao Felix and Griezmann allow them a certain flexibility. They can go down the outside, but with the use of wing-backs there's not a necessity, therefore Atletico can really overload teams in the final third when the likes of Kieran Trippier and Yannick Carrasco are overlapping out wide.
This appears to suit Joao Felix in particular, and he has thrived in an advanced playmaker role against Real Sociedad and Levante over the past week.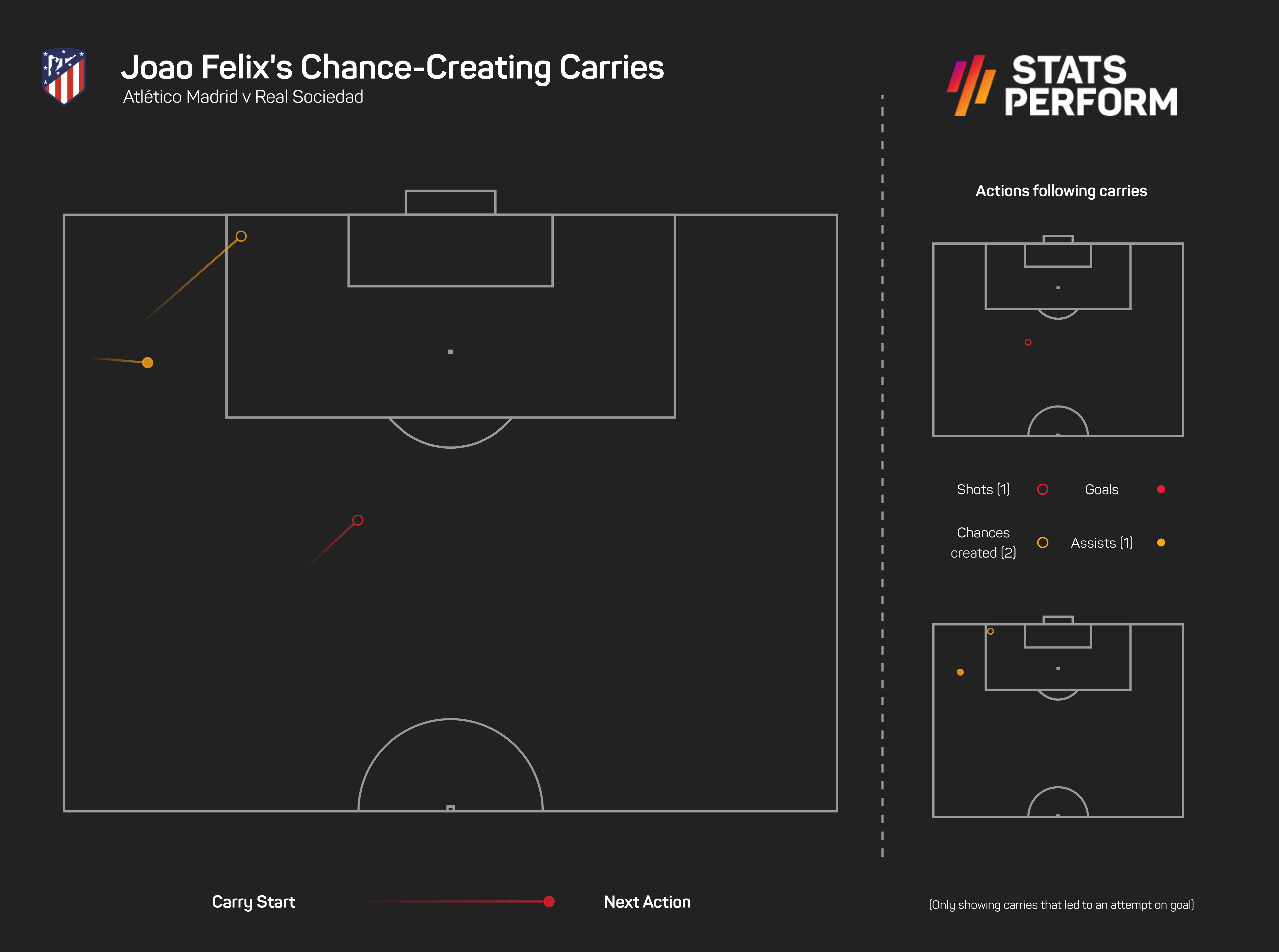 Now, it's worth noting that Joao Felix was at fault for La Real's first goal in last weekend's 2-2 draw, but he played a similarly important role in ensuring Atletico fought back, his neat and intricate play in possession a real asset.
He was involved in 41 open-play passing sequences in that match, second only to Koke among Atletico midfielders and forwards. Given it's a metric that tends to be dominated by defenders and central midfielders, Joao Felix's high involvement here speaks to his significant influence.
He was then involved in 44 such sequences against Levante – again, Koke was the only midfielder or forward to be more influential in Atletico's build-up play than Joao Felix.
But there has been more substance to his performances than just build-up involvement – he seems to be relishing the attacking responsibility he has, and there's a certain maturity to be gleaned from that.
For example, it would have been quite easy for Joao Felix to go back inside his shell after coughing up possession in the lead-up to La Real's first goal, but he continued to demand the ball and drive at the defence.
His 22 ball carries was four more than any other midfielder or forward in that game, and there was such positivity in his movement in possession – he progressed 137.5 metres upfield with the ball, at least 45.8m more than any other non-defender on the pitch.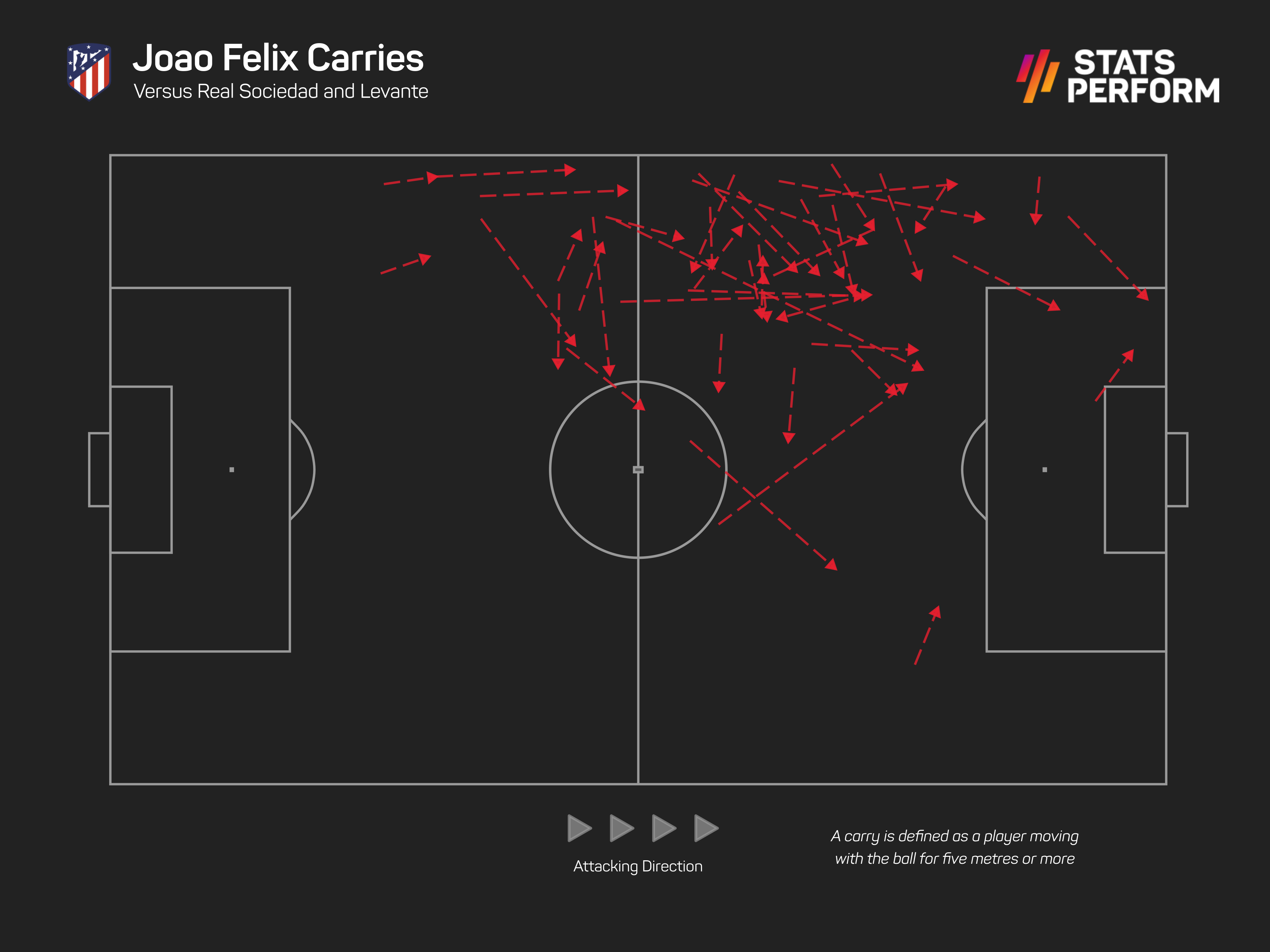 These often brought him inside as well as down the wing, from where he caused numerous problems and even set up Suarez's first goal with a gorgeous cross.
Joao Felix's output was then almost identical against Levante, with his carry progress increasing to 140.6m upfield, which was again a match-high among non-defenders, while his 21 overall carries was second only to Koke's 27 in that same group of players.
There are undoubtedly those who will remain unconvinced given he has had only one goal involvement (that assist against La Real) in five league games this season, so why are these figures important?
Well, Joao Felix's prominence in Atletico's build-up shows the influence he's beginning to exert. That, coupled with the positive nature – and frequency – of his ball carries, suggests he's finally found his niche in this team. He's injecting direction and purpose to their attacks.
Obviously, in an ideal world he will manage to add plenty of goals and assists as well in the long run, but for the moment the important thing for Joao Felix is that he finds continuity and consistency.
He looked to have been on the right path this time last year before a complicated second half to 2020-21 – hopefully for his sake this isn't another false dawn.