Antonio Conte hailed the killer instinct of his bloodthirsty Tottenham front three after a clinical 4-0 win at Aston Villa boosted hopes of Champions League football next season.
Son Heung-min hit a hat-trick, taking him to 17 Premier League goals for the season, and winger Dejan Kulusevski was also on target at Villa Park.
Harry Kane had two assists, meanwhile, as Tottenham's front three ran Villa ragged in the second half.
Son has the most goals in the Premier League this season when penalties are removed from the count, given none of his strikes have been spot-kicks. Mohamed Salah's league-leading 20-goal haul includes five penalties.
Villa finished the game with a higher expected goals figure than Tottenham, 1.71 to Spurs' 1.02. That reflected the golden chances Villa spurned, particularly in the first half when Danny Ings, Ollie Watkins and Philippe Coutinho all threatened.
The statistic also spoke of Tottenham's ability to sniff a half chance and snatch a goal, which is something that delights Conte.
Earlier defeats for Arsenal and Manchester United meant Tottenham had a great opportunity to tighten their grip on fourth place, and Conte said: "We have to look to ourselves. I said this to our players: a strong team, a big team, doesn't depend on the others.
"We have to understand the moment when you have to kill your opponent. Today was an important moment, especially because of other results. It was good for us, but it was good because we won. If you don't win, the result of the other teams is not useful.
"The players know very well what I said. The winner has to feel when there is blood, the blood of your opponent, and then you have to kill your opponent.
"I think we are working very hard in many aspects. I'm lucky because I have a group of players that deserve the best because they show me great commitment, great behaviour every day.
"They want to improve, and to get these kind of results in a short time makes me very happy because I know that they are very happy."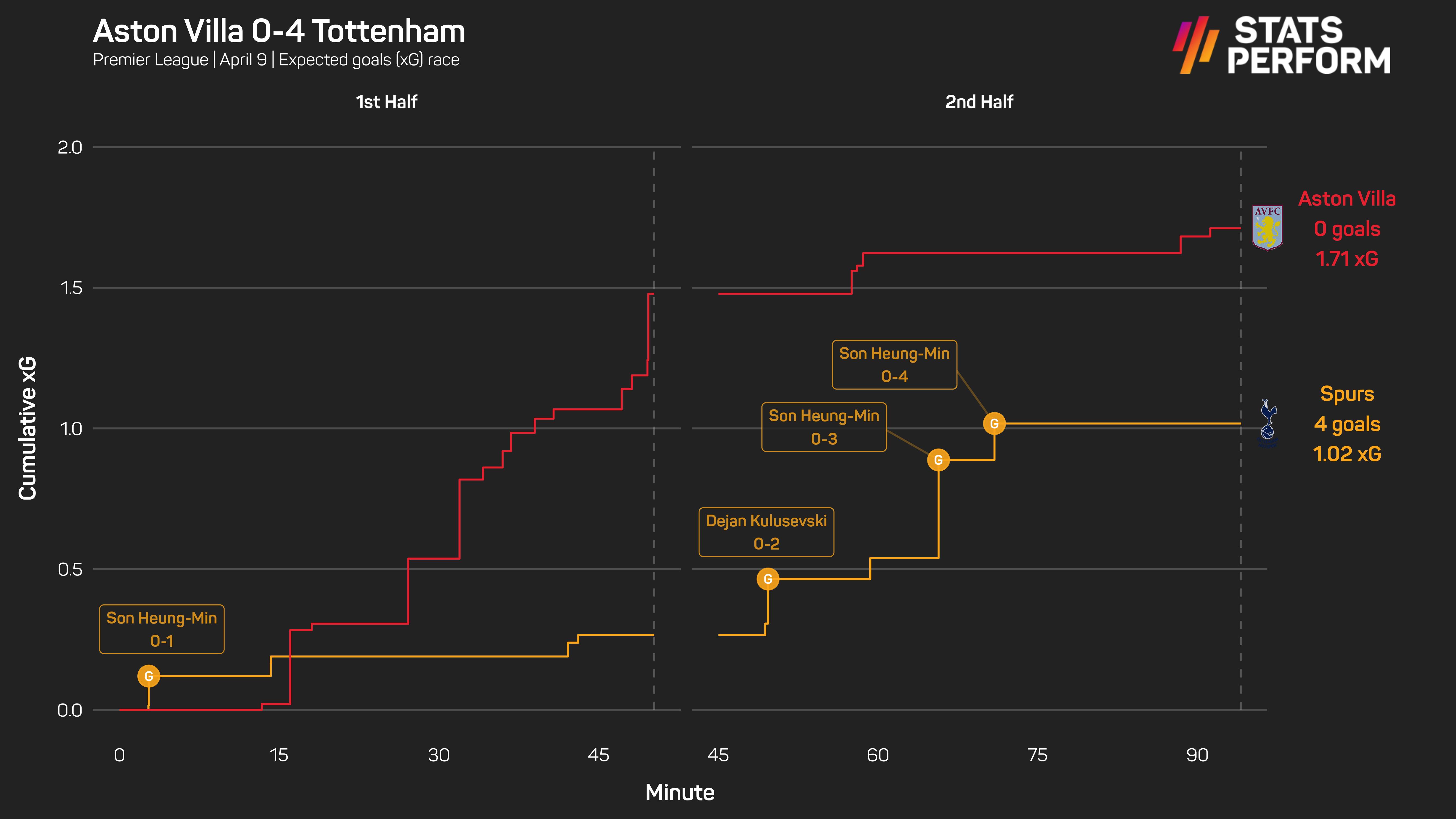 Tottenham have won six of their last seven games in the Premier League, after a previous rocky spell of results.
They have seven games remaining, including a big derby against Arsenal next month and a trip to title hopefuls Liverpool.
Tottenham appear to be growing all the time, and being able to set aside a sketchy opening 45 minutes, when Son's early goal gave them a lead they scarcely deserved by the break, showed a particular quality that pleased Conte.
Son, Kane and Kulusevski were unaffected by the battering Tottenham had taken, and came out for the second half determined to stamp a greater mark on the game.
"I think that the task of the coach is to try to exploit the characteristic of the players, to put the players in the best situation," Conte told Sky Sports.
"I think this formation is sweet for the characteristics of these players, and it is working very well. We're starting to work about the details. This is very important because don't forget that I arrived in November, not in pre-season. I think we have grown in an important way, and now we're showing that it's tough to play against us."
Son also spoke of the dynamic between the front three. Since Kulusevski's Premier League debut on February 9, only Kane (13) and Son (12) have been involved in more goals in the competition than the former Juventus winger (nine), taking all teams into account.
"It's all about understanding," said Son. "The first time we played together it wasn't perfect. We're still not perfect, but we improve every single day and enjoy playing together."