Manchester United was said to be a toxic place for much of last season, with reports of a fractured dressing room, players leaking information to the press and results generally poor.
With that in mind, it's already clear to see the influence Erik ten Hag has had since taking over in pre-season, and Saturday's ultimately dramatic 1-1 draw with Chelsea at Stamford Bridge showcased that in a variety of ways.
But chief among them was the demonstrably improved spirit that has taken over United. While there have been signs of it throughout the early months of the season, with the atmosphere and relationship between players on the pitch clearly far better, Casemiro's equaliser showed it in terms we all understand: a crucial late Manchester United goal.
However, many will argue they shouldn't have even found themselves in such a position in the first place, with United struggling to make the most of their earlier dominance.
Of course, that highlighted the absence of Cristiano Ronaldo, which was confirmed as early as Thursday, with Ten Hag excluding him from the squad as a consequence of refusing to come on against Tottenham and then walking down the tunnel before kick-off.
As much as it was just the latest example of Ronaldo's relationship with the club souring, Ten Hag's decisiveness in his punishment was another show of strong leadership and principles.
Some United fans will say it was an easy decision to make, simply for the fact Ronaldo's routinely resembled a square peg in a round hole this season. Whether it's down to the system he's playing in, his own professionalism or fitness, we can only speculate, but it's difficult to say they've missed him when he's not played.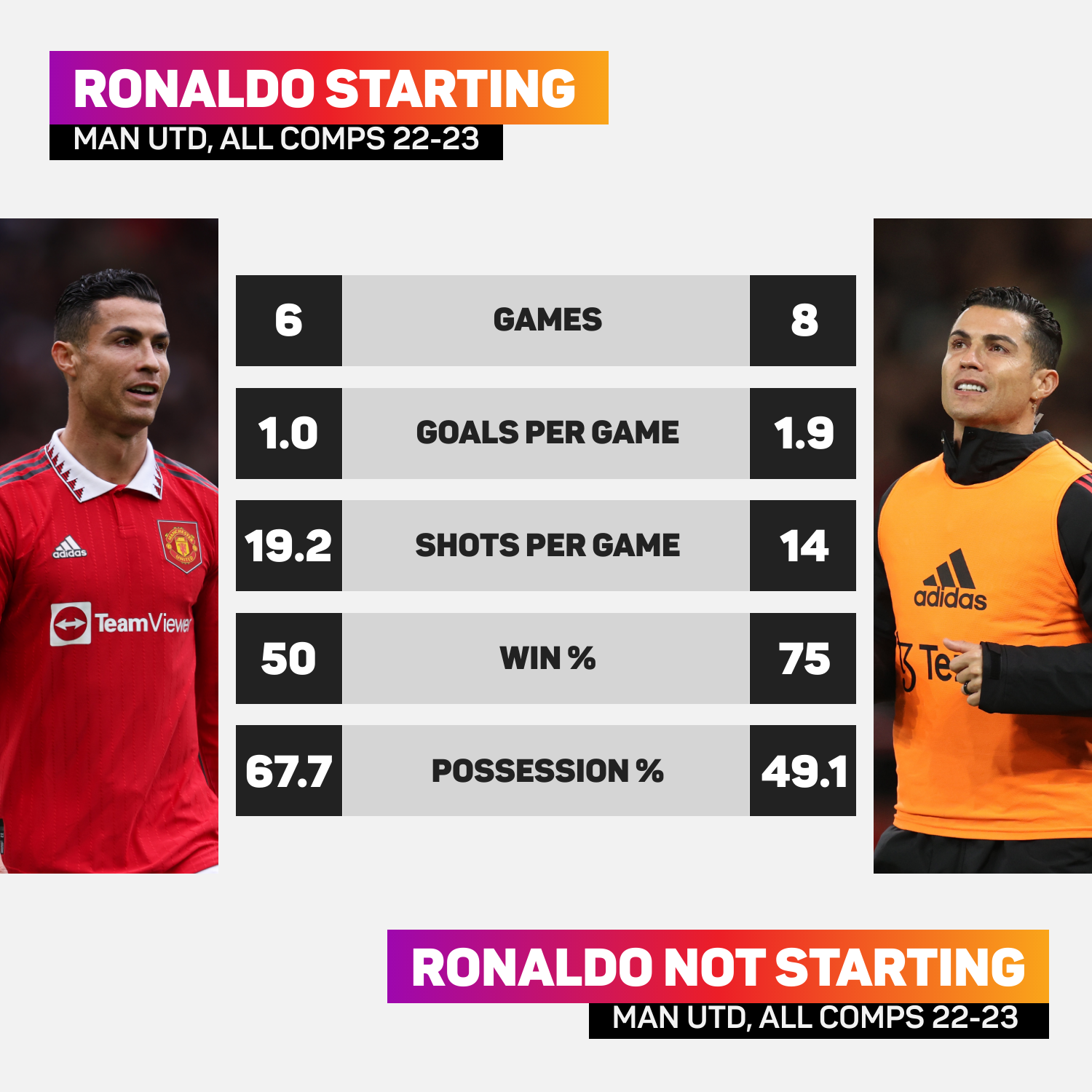 In fact, prior to Saturday, United had a 75 per cent win rate without Ronaldo starting (eight matches) this season compared to 50 per cent (six matches) with him in the line-up. Similarly, they average more goals (1.9, up from 1.0) without him in the starting XI even though their shots per game count is higher when he features from the beginning (19.2, compared to 14.6).
What makes that even more damning is four of Ronaldo's starts have been in the Europa League against the likes of Omonia Nicosia and Sheriff. Essentially, United register more shots but are less effective despite poorer opposition, which backs up concerns relating to his lack of cohesion with the rest of the team.
Watching United dominate much of the first half at Stamford Bridge, Ronaldo would've been far from the minds of most supporters initially.
Ten Hag's men were exceptional at times in the opening period, with the composure brought by Casemiro and Christian Eriksen in midfield helping United regularly slice through the Chelsea lines. Jorginho and Ruben Loftus-Cheek were constantly overrun.
It got to the point where Graham Potter was forced into an early switch. With roughly 10 minutes still left of the first half, Marc Cucurella was withdrawn for Mateo Kovacic as Chelsea sought to even up the midfield battle.
The change worked to an extent, with Chelsea almost instantly a greater attacking threat, though it was still United creating the genuine chances: Marcus Rashford was denied by Kepa Arrizabalaga – having also been thwarted in an earlier one-on-one – and Antony sliced a gilt-edged opportunity wide on the stroke of half-time.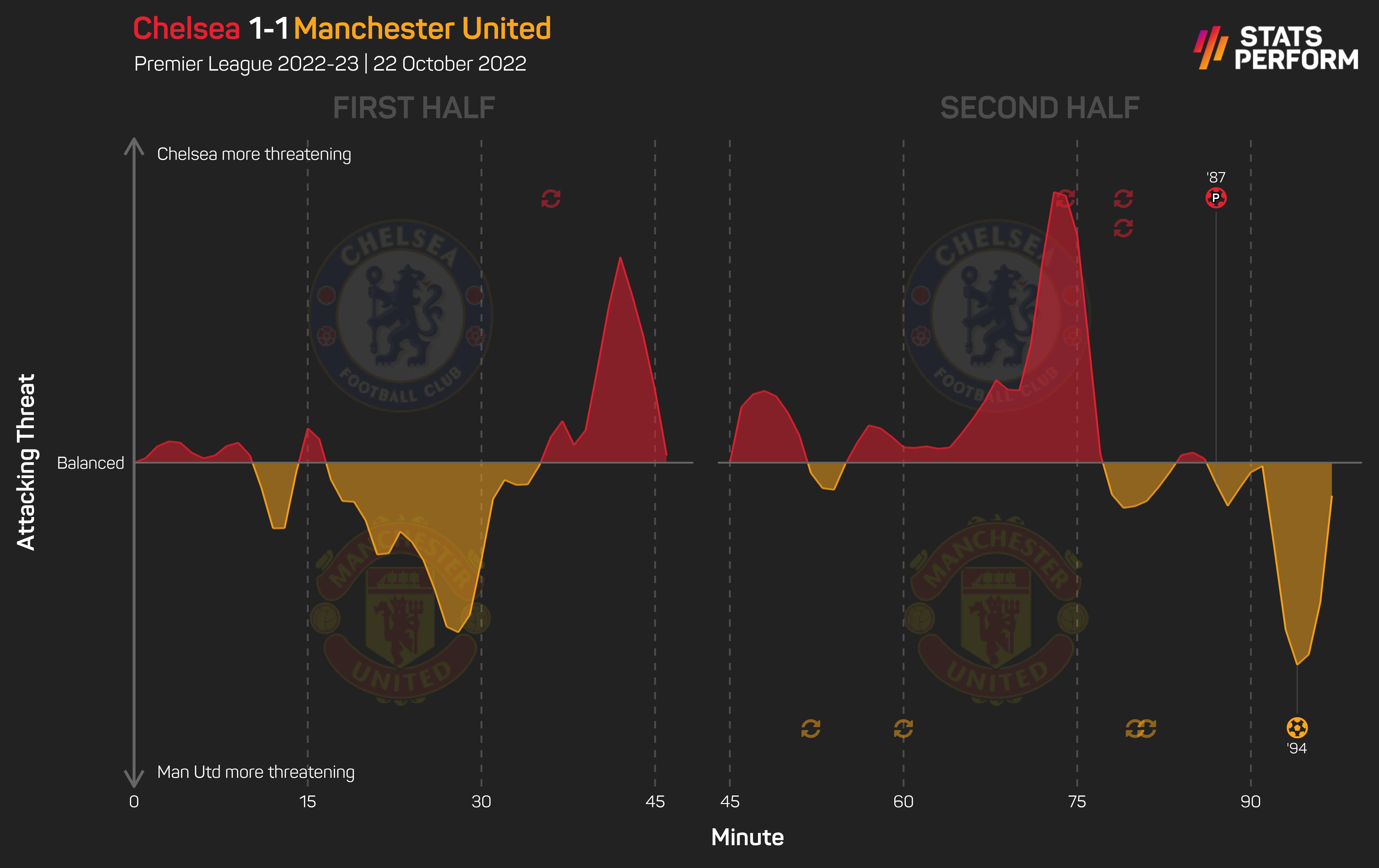 Despite the obvious concerns around his wider impact on the team, Ronaldo's slim chance of having an influence on United again this season was probably best summed up by Rashford's opportunities, especially the first.
Who's to say if Ronaldo would have converted past Kepa, but undoubtedly it was an opening he'd have expected himself to take.
A lack of ruthlessness in front of goal has been a recurring theme through Rashford's United career, and with the oft-crocked Anthony Martial seemingly unable to be relied upon, it's easy to see Ronaldo still getting picked.
Chances largely dried up after the interval at Stamford Bridge, particularly for United, with Ten Hag's introduction of Fred in an attempt to restore midfield superiority leading to a much cagier affair.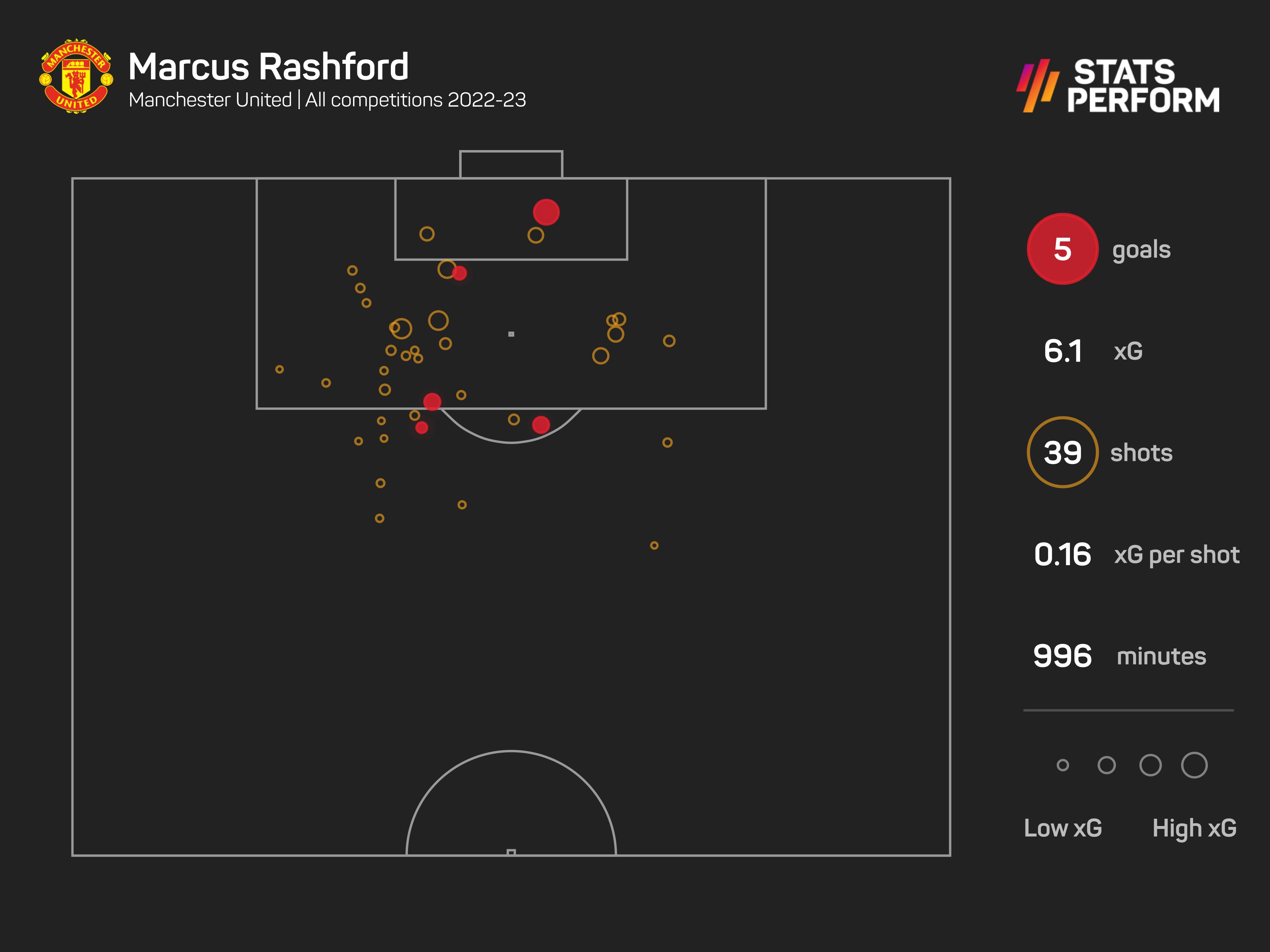 Chelsea did improve – they probably couldn't have been more ineffective, to be fair – and gave the Red Devils' defence a bit more to do, with their best opening seeing Trevoh Chalobah head against the crossbar late on.
Then a moment of madness from Scott McTominay seemingly gifted Chelsea the win. He pulled Armando Broja to the ground at a corner and a penalty was unsurprisingly awarded, with Jorginho – as he usually does – coolly sweeping home from the spot.
That looked decisive, yet United salvaged a point right at the death, Casemiro's brilliant header just about crossing the line as Kepa's fingertips failed to keep it out.
But even though United rescued the point, there was still a sense of them ruing what might have been when dominant in the first half.
That lack of ruthlessness could be Ronaldo's lifeline.