It is set to be the biggest match the Premier League has seen since, well, since the last time these two met during a fierce title race.
In 2019, Manchester City and Liverpool were slugging it out at the top of the table when they met at the Etihad Stadium, with Pep Guardiola's men edging a tight encounter 2-1, ultimately winning the league by a single point, 98 to 97.
That clash came in the January, though. This time, with both teams again separated by just one point, and with only eight games to go, it feels like it could be all or nothing when they meet on Sunday.
Both behemoths have numerous players who could play a crucial role, with match winners all over the pitch in either sky blue or red shirts.
However, two players in particular could arguably be held up as representations of both their teams, their approaches and their identity.
The journeys from transition to world-class of these City and Liverpool teams did not happen overnight, just like it didn't for two players who are now among the best full-backs in the game.
It has been said that Joao Cancelo and Trent Alexander-Arnold are redefining the role in their own unique ways, and in doing so, becoming defining players in their respective teams.
It is strange to think that during his first season at City in 2019-20, there were doubts raised about Cancelo's signing, valued at around £60m as part of a swap deal for the outgoing Danilo, who replaced Cancelo at Juventus.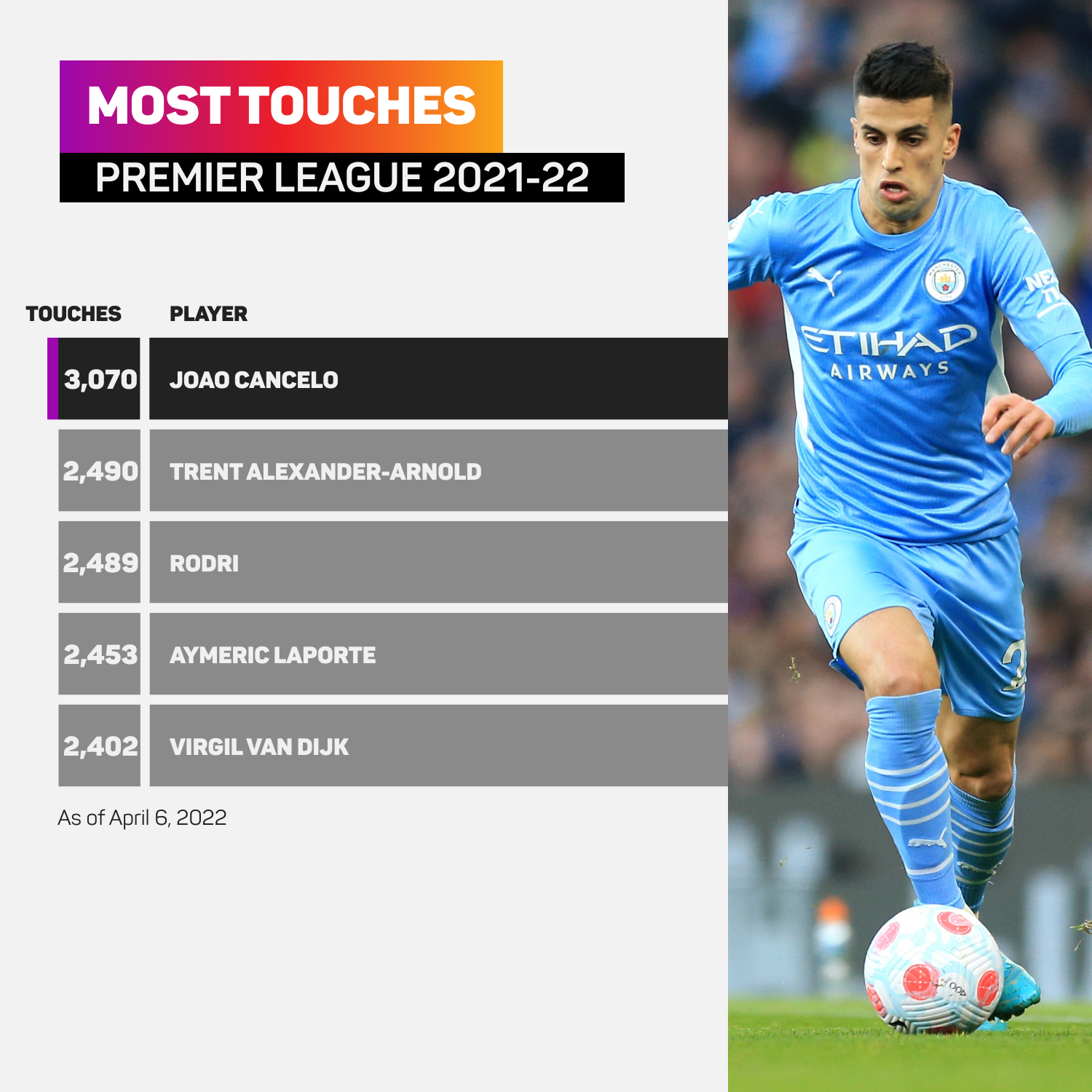 However, the Portugal international was a key part of his team's recovery from a poor start last season to eventually ease to the Premier League title, before featuring prominently again this time around as Pep Guardiola's men chase a treble.
Cancelo was signed as a right-back but has shown his quality further still by adapting to playing at left-back, which is where he has recently been most effective for City, despite being right-footed.
Alexander-Arnold came through Liverpool's youth ranks, interestingly enough as a central midfielder, only moving to right-back as it seemed the quickest route into the first team.
Some early teething problems due to inexperience and size were understandable, but by the age of 21, he had already won the Champions League and Premier League.
He recently received one of the ultimate compliments, with Barcelona legend Dani Alves listing him as one of his favourite right-backs in the modern game.
The Brazilian – who is back at Barca for a second spell – told FourFourTwo magazine: "I admire Trent Alexander-Arnold very much. He's a fantastic footballer – this guy has got world-class skills."
How do they compare, though?
In an attacking sense, per game this season in all competitions, Cancelo has taken more shots than Alexander-Arnold (1.90 to 1.54) as well as having more touches (106.87 to 98.44), more touches in the opposition box (2.67 to 2.26) and more passes ending in the final third (30.86 to 28.21).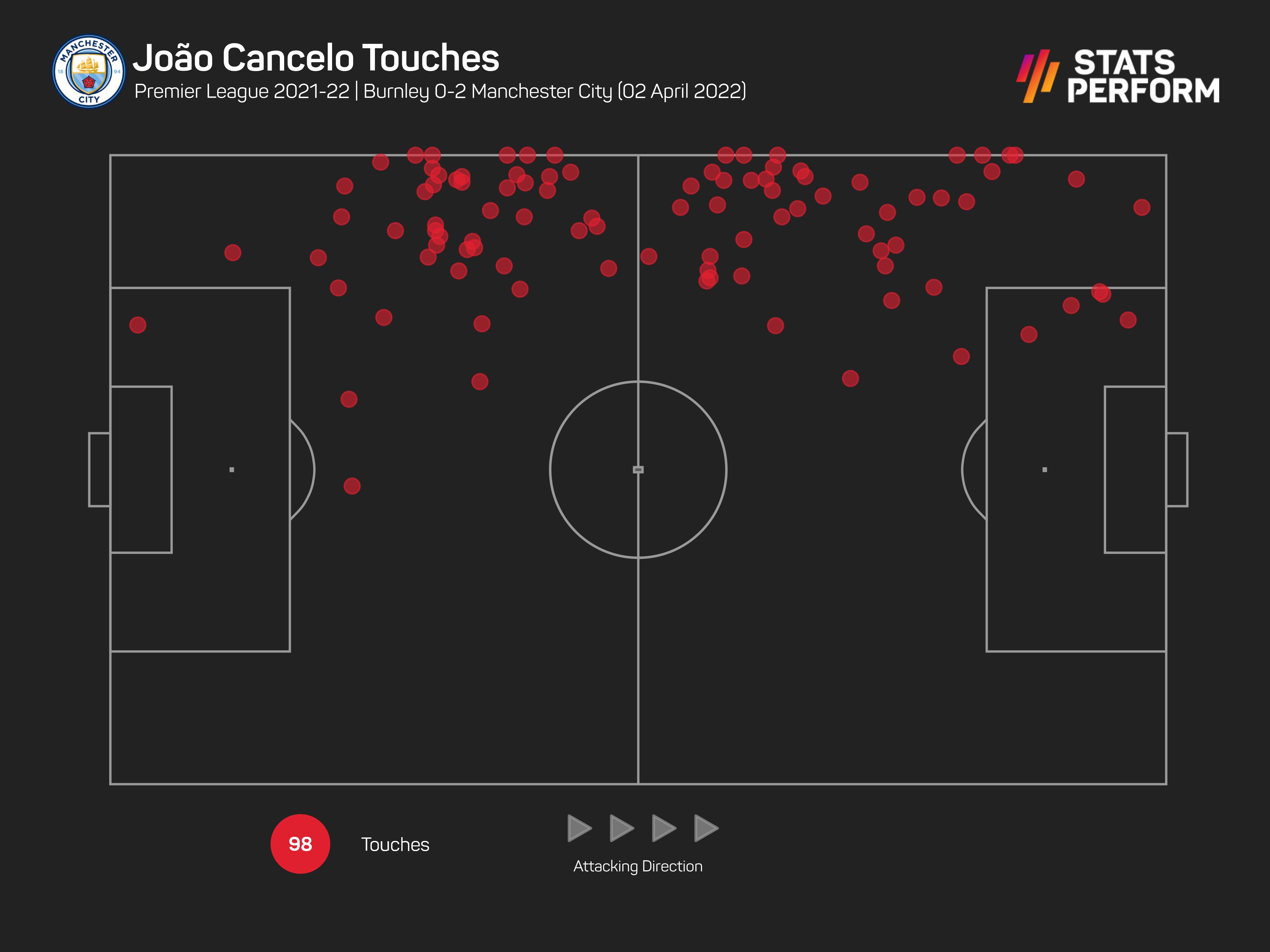 The Liverpool man is, perhaps unsurprisingly, more creative, having twice as many assists (16 to eight), more chances created from open play per game (1.56 to 1.05), more successful long passes (6.37 to 4.05) and almost twice as many passes played into the box (12.07 to 6.82).
No player in the Premier League comes close to Alexander-Arnold when it comes to switching flanks and moving the opposition across the pitch, with the England international doing so 57 times in the league this season, 20 times more than anyone else (Ruben Neves of Wolves is second with 37). Cancelo is third in the league overall for this, having done so 32 times so far.
Going the other way, Alexander-Arnold gets more than his fair share of scrutiny for his defending, but the numbers suggest this is unfair, or at least that there are aspects of his game that are better than Cancelo, who is correctly considered to be a very capable defender.
No City player has made more tackles (63) or interceptions (49) than Cancelo in the Premier League this season.
Cancelo competes in far more duels than his Liverpool rival per game in all competitions (11.54 to 5.42), with a success rate only slightly lower (1.27 to 1.32), while also making more tackles per game (2.05 to 1.23) and interceptions (1.85 to 1.31).
However, Alexander-Arnold has won possession more often (7.32 times per game to 5.7), conceded fewer fouls per game (0.31 to 1.07) and been dribbled past by an opponent fewer times per game (1.06 to 1.2).
The statistic that most people associate with Cancelo is the amount of touches he takes, comfortably the most in the Premier League, currently at 3,070 this season.
Alexander-Arnold has taken the next most with 2,490, ahead of Rodri (2,489), Aymeric Laporte (2,453) and Virgil van Dijk (2,402).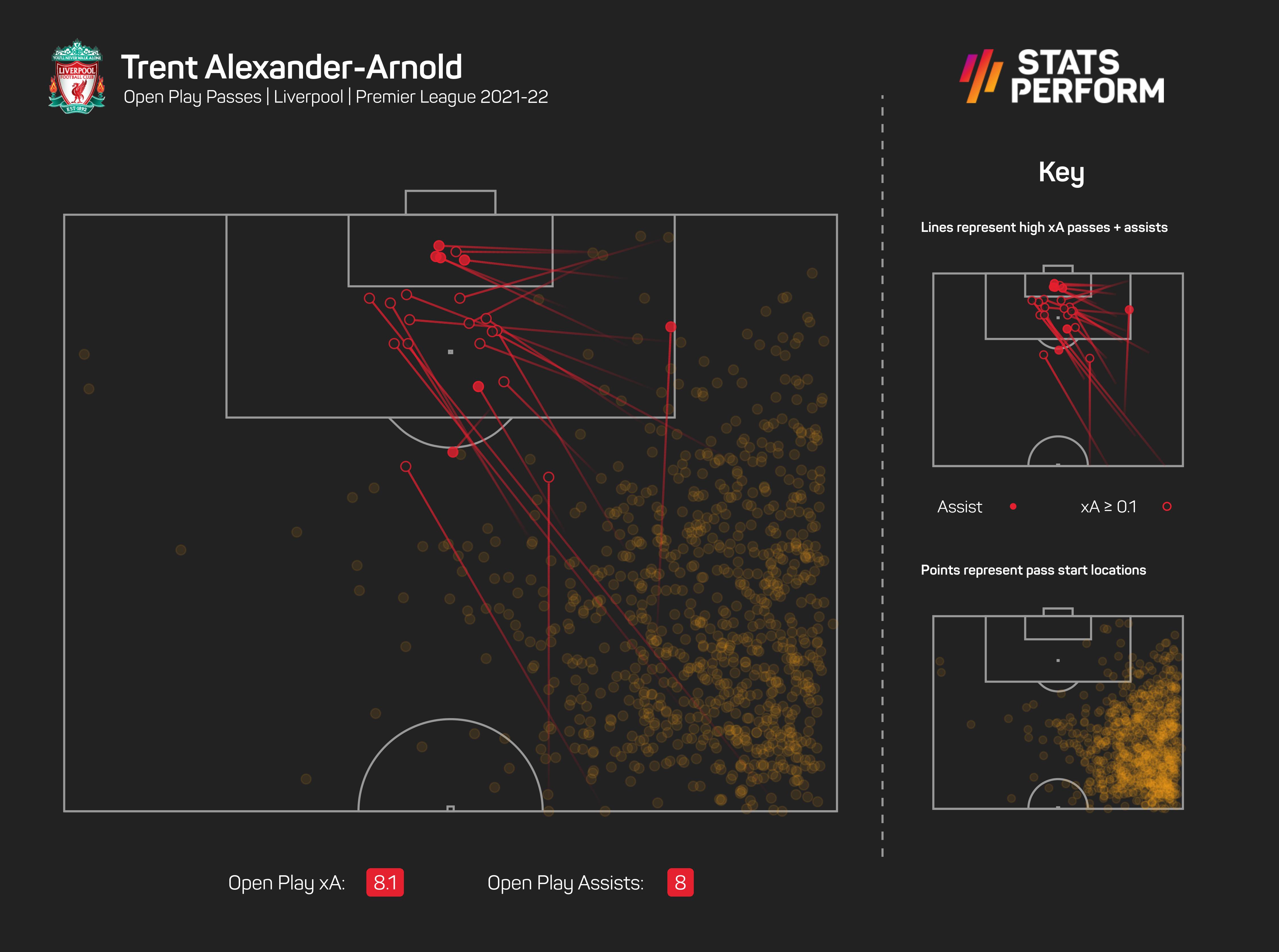 The Liverpool right-back, on the other hand, is more known for his creativity, and like Cancelo, the numbers back him up again this season.
In all competitions and across the top five European leagues, no player has created more than his 23 big chances – which is an opportunity from which a player would be reasonably expected to score – while in Premier League games, no player has created more than his 77 chances.
It is not just these more obvious metrics where the two are influencing things, though.
In terms of open play sequences involved in – defined as passages of open play that belong to one team and are ended by defensive actions, stoppages in play or a shot – they both lead the way in the Premier League this season, with Cancelo on 1,737 (62.3 per 90) and Alexander-Arnold on 1,555 (60.5 per 90), ahead of Rodri in third place on 1,447 (59.4 per 90).
Cancelo has also been involved in more open play shot-ending sequences than any other City player this season (191, or 6.9 per 90), while Alexander-Arnold ranks third among Liverpool players (144, or 5.6 per 90), behind only Mohamed Salah (192, or 7.4 per 90) and Sadio Mane (150, or 6.0 per 90).
With numbers like this, it is tempting to suggest that both could play in midfield, but that would be to do a disservice to the roles they currently fill at full back. They dominate from there with ease, and where is the sense in meddling with that?
They impressed again in midweek as their teams secured leads in the first legs of their Champions League quarter-finals, with Alexander-Arnold playing an incredible long ball to Luis Diaz to set up Liverpool's second goal at Benfica.
Both men are at the top of their games, and will need to be again when they meet in one of the biggest games the Premier League has ever seen on Sunday.