Sunday finally sees the start of a tournament that has already been rescheduled twice as the Africa Cup of Nations 2021 begins in Cameroon.
Originally scheduled for last year, organisers decided to move the tournament from the original dates of June and July 2021 forward to January and February due to concerns about the "unfavourable climactic conditions" in Cameroon.
Then the COVID-19 pandemic saw the whole thing pushed back by a year, and so here we are. Third time lucky, and with some of the game's biggest stars ready to create more memories as Africa's best tussle it out for the continent's biggest prize.
On the eve of the competition, Stats Perform takes a look at some previous memories and classic moments from Africa Cup of Nations history, with penalty shoot-outs featuring heavily.
An Englishman won an international tournament (no, seriously)
Referee Ali Bin Nasser oversaw one of the most controversial moments in football history as far as England are concerned, missing the relatively clear handball by Diego Maradona as the great Argentine's "Hand of God" helped dump the Three Lions out of the 1986 World Cup.
One particular Englishman may have been more forgiving about Bin Nasser though as the Tunisian official also took charge of that year's Africa Cup of Nations final, which saw Mike Smith's Egypt side lift the trophy. Perhaps Bin Nasser felt England had already won enough that year by the time he got to Mexico City.
The Egyptians had won the first two iterations of the competition in 1957 and 1959, before finishing as runners-up to Ethiopia in 1962.
However, they had not reached another final before hosting the 1986 AFCON, and so there was plenty of pressure on Smith – a former Wales boss – to deliver.
It did not start well as the hosts lost 1-0 to Senegal in Cairo in their opening game, but wins against the Ivory Coast and Mozambique, and then a semi-final victory against Morocco saw Egypt into their first AFCON final in 24 years.
The reportedly 100,000 in attendance will have feared the worst as the game with Cameroon went to penalties following a goalless encounter, especially with an Englishman in charge, but when Andre Kana-Biyik shot wide for the Indomitable Lions, Smith and Egypt had their hands on the trophy and a famous victory.
A penalty shoot-out is a marathon, not a sprint
Many players know what it is like to take a pressure penalty in a shoot-out and score, some know what it is like to do so and miss, but very few have ever done both, especially in the same shoot-out.
The final of the 1992 AFCON between Ghana and the Ivory Coast had not exactly been a classic, and inevitably went to penalties, where finally some drama occurred.
After seven successful penalties, Ghana's Isaac Asare missed, giving Joel Tiehi the chance to win it. He also missed, and when Tony Yeboah just about scored his penalty, it was back level.
That is how it stayed until every single player, including the goalkeepers, had taken one, now level at 10-10. Ivory Coast's Basile Aka Kouame stepped up to take his second penalty, and hit it straight at Ansah, who somehow failed to stop it.
This meant that Ghana's Anthony Baffoe, who had calmly slotted his penalty at the start of the shoot-out, had to do so again. His second effort was saved and the Ivory Coast had won, leaving Baffoe to come to terms with the rare experience of being both a hero and a villain in the same shoot-out.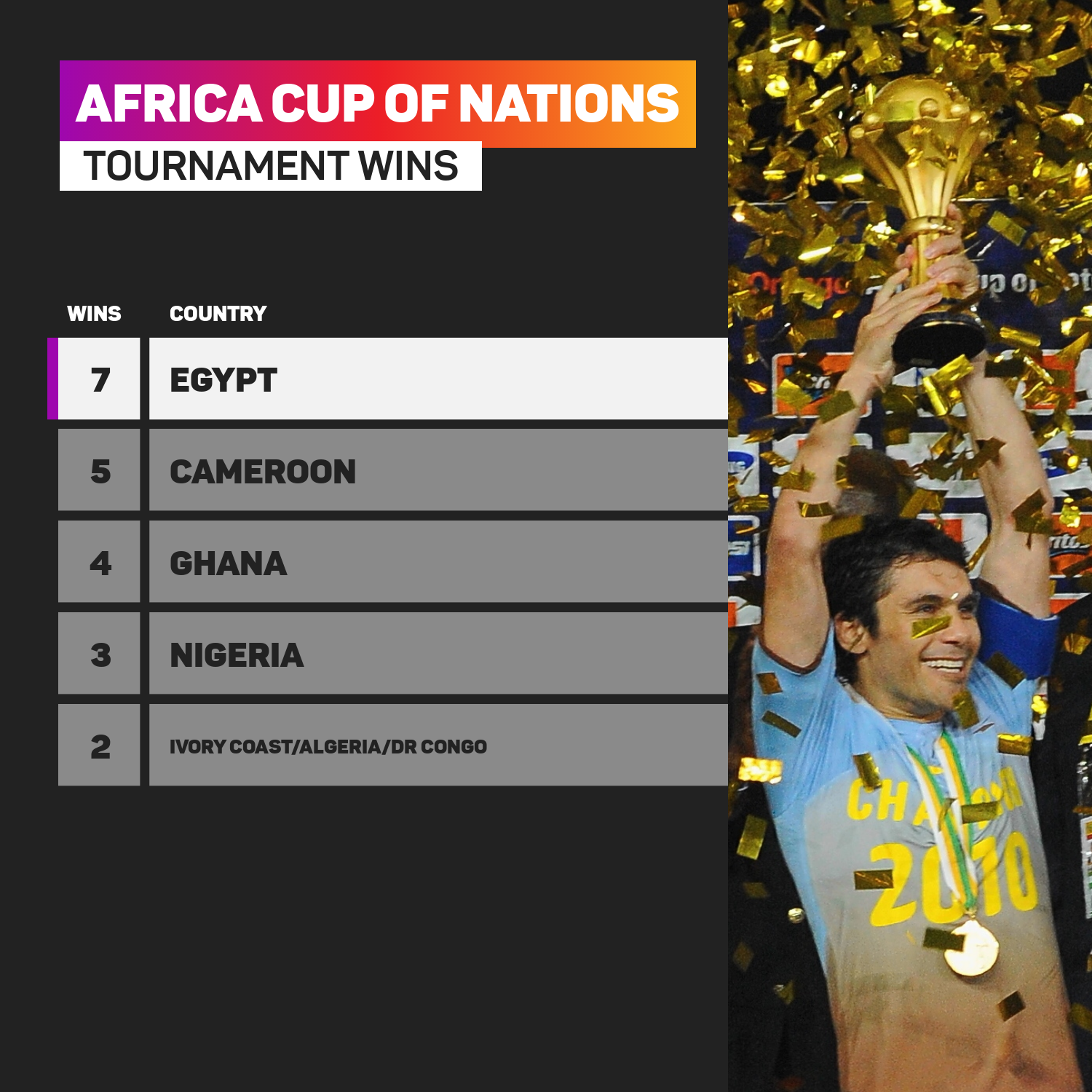 Bafana Bafana win maiden tournament
South Africa had actually never played in the AFCON until they hosted in 1996, having been disqualified from the first tournament for refusing to field a multiracial team and subsequently banned during apartheid, before failing to qualify in 1994.
However, with Kenya stripped of hosting duties two years later due to financial irregularities, South Africa were given a place in the tournament after agreeing to step in.
One helping hand in their quest to lift the trophy on home soil was a diplomatic row between Nelson Mandela and General Sani Abacha, the military leader of Nigeria. As a result, the defending champions, who would also go on to win Olympic gold in Atlanta in 1996, did not compete.
A crowd of 75,000 in Soccer City watched their historic first AFCON appearance, which was a rather surprising 3-0 win over Cameroon. This was followed by a 1-0 win against Angola, which meant that they topped their group despite defeat to Egypt in their next game.
Six months prior, South Africa's rugby union side had lifted the World Cup on home soil, and now Clive Barker's team were also exciting the nation as they booked their place in the final back at Soccer City after wins over Algeria and Ghana.
They faced Tunisia in front of 80,000, who saw two late Mark Williams goals secure a surprisingly routine win to become the continent's champions.
As it turned out, that remains South Africa's one and only AFCON success to date, having not even reached a final since 1998.
Football is best when it means nothing
With the 2010 AFCON just days away, suddenly, the football did not seem so important.
A terrorist attack on the Togo team bus saw the driver, the team's assistant manager and media officer lose their lives, while several others suffered injuries.
The continent and the game was shaken, but the tournament still went ahead as planned, albeit without Togo who understandably withdrew.
The opening game between hosts Angola and Mali began with a moment's silence, before a frenetic 90 minutes that saw Angola throw away a four-goal lead with only 12 minutes remaining.
Flavio scored twice in the first half, and then a Gilberto penalty and another from former Manchester United striker Manucho gave Angola a seemingly comfortable advantage, only for Seydou Keita, Freddie Kanoute, Keita again and finally Mustapha Yattabare to complete a remarkable comeback.
It was galling for the hosts, though they still ultimately topped the group while Mali went out, but provided a welcome distraction from the horrifying events of days prior.
Fierce matching awaiting you in the 2021 #TotalEnergiesAFCON! 

Which group are you anticipating its matches the most?  pic.twitter.com/oUJliyDArh

— #TotalEnergiesAFCON2021  (@CAF_Online) August 17, 2021
Zambia's greatest night
Nineteen years after the tragic plane crash that took the lives of all 30 passengers, including 18 players and the team coach of the national team, Zambia returned to Gabon to sensationally win the 2012 AFCON.
The team from 1993 had been on their way to a World Cup qualifier, in a reasonable position to qualify, when the old military plane they were on exploded over the Gulf of Guinea shortly after taking off from Libreville, Gabon. It was a devastating disaster that soured relations between Zambia and Gabon for years.
Fast-forward to 2011, and coach Herve Renard, who had been at the helm for the 2010 AFCON where Zambia were eliminated on penalties by Nigeria at the quarter-final stage, was brought back for another go ahead of the 2012 competition, which was to be held jointly by Equatorial Guinea and Gabon.
After winning the group, Zambia came through the quarter-final against Sudan with a routine 3-0 win, only for Ghana to await in the semi-final, who had captured the hearts of the world in their journey at the first ever World Cup held in Africa in 2010.
An Emmanuel Mayuka goal with 12 minutes remaining was enough to see them cause somewhat of an upset and advance to the final against arguably the strongest African side at the time, the Ivory Coast, in Libreville, just a few miles from the 1993 crash site.
Ahead of the game, the squad visited a beach nearby and sent an array of flowers floating out to sea.
The opponents' line-up included Premier League stars Salomon Kalou, Kolo and Yaya Toure, Didier Zokora and Didier Drogba, but a spirited young Zambia side matched them, taking them all the way to penalties after a goalless 120 minutes of football.
After seven successful penalties each, Zambia looked to have been handed their moment when Kolo Toure had his effort saved, only for Rainford Kalaba to shoot over.
However, when Gervinho did the same, it came down to Stoppila Sunzu, who smashed the ball into the net to win the trophy for his nation and seal a fitting tribute to those who were lost almost two decades earlier.